Luxury Villas for Sale in Cap Cana Golf Resort
Discover the epitome of luxury living in the prestigious Cap Cana golf resort in the Dominican Republic. Nestled within this renowned destination, our exquisite villas for sale offer an exceptional opportunity for both investment and an unparalleled lifestyle. Here are some compelling reasons to consider investing in a villa in Cap Cana:
High Annual Return: By owning a villa in Cap Cana, you can capitalize on the thriving rental market and enjoy a significant annual return on your investment. With its popularity as a sought-after vacation destination, the demand for luxurious accommodations remains consistently high.
Occupation Rate  $ 60%   Anual Rental Income 296,050     Net Profitability $ 9.55%
Prime Location: Cap Cana boasts a prime location, surrounded by stunning white sandy beaches and the mesmerizing turquoise waters of the Caribbean Sea. Experience the sheer beauty of this coastal paradise right at your doorstep.
Exceptional European Quality Unveiled in a Prestigious Cap Cana Villa
This luxury villas for Sale in Cap Cana Golf Resort offer unparalleled European quality in your newly acquired villa, nestled within the prestigious and exclusive enclave of Cap Cana. Our meticulously designed property offers a sanctuary of genuine privacy, tranquility, and unsurpassed luxury.
This extraordinary architectural marvel seamlessly marries contemporary design with opulence, functionality, and a seamless blend with nature and its surroundings. Enjoy vast, well-lit spaces and harmonious architectural elements that authentically embody the elevated standard of living you and your family truly deserve.
Premier Golfing Experience: Golf enthusiasts will delight in the world-class golf courses within Cap Cana. Immerse yourself in an extraordinary golfing experience, with meticulously designed fairways and breathtaking views, making it a golfer's dream come true.
Unmatched Lifestyle: Cap Cana offers an unrivaled lifestyle that combines elegance, exclusivity, and a vibrant community. Indulge in a range of upscale amenities and services, including fine dining establishments, luxurious spas, and exciting entertainment options, ensuring an extraordinary living experience.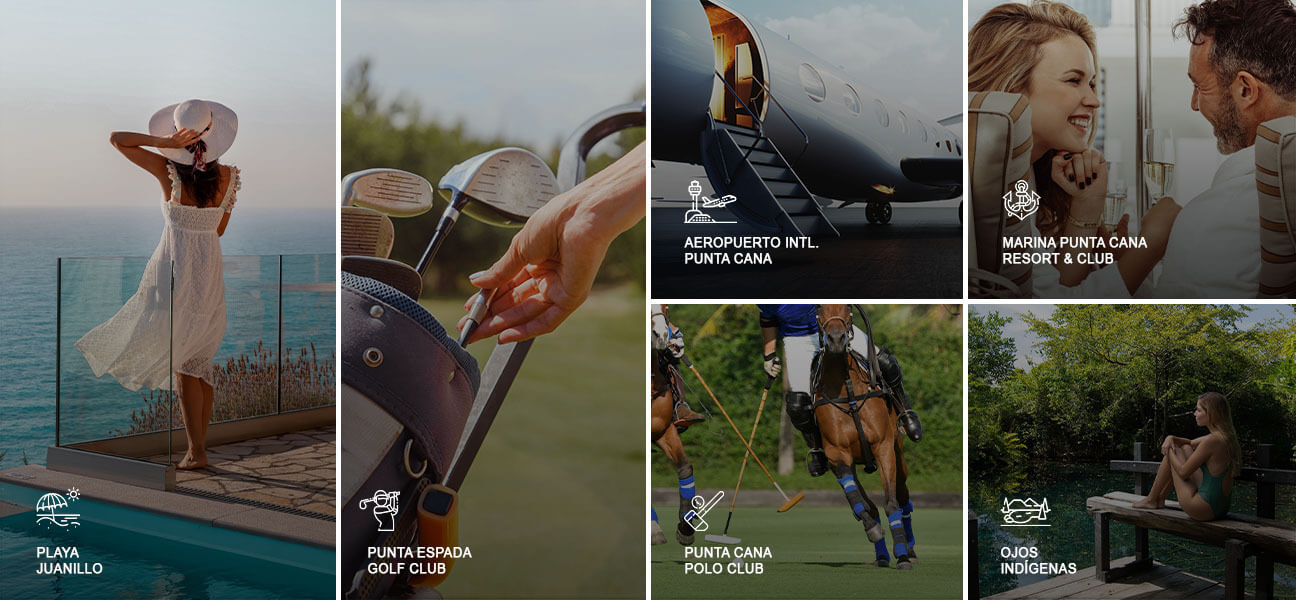 About Cap Cana
Embark on a Day of Adventure in Luxury at Cap Cana's Cutting-Edge Marina
Begin your day in ultimate style at our state-of-the-art marina, where your journey of adventure unfolds. Sail aboard your private yacht, and set forth to explore the stunning coastline of the Dominican Republic. Cast your lines for an exhilarating fishing expedition, or uncover the hidden gems scattered across our island paradise.
By the afternoon, return to the embrace of our Cap Cana harbor. Our marina is equipped to accommodate yachts of up to 150 feet, providing comprehensive services for both captains and crew. Notably, The Billfish Report has acclaimed the coasts and surrounding areas as the world's premier destinations for deep-water scuba diving and fishing. Your adventure awaits
Security and Privacy: Enjoy peace of mind within the secure confines of Cap Cana. This gated community prioritizes safety and privacy, providing a serene sanctuary where residents can relax and enjoy their surroundings with complete tranquility.
Investing in a villa in Cap Cana not only guarantees an impressive return on investment through property rental but also grants access to a world of unparalleled luxury and endless possibilities. Don't miss out on the chance to embrace the exceptional lifestyle that awaits you in Cap Cana.
If you are captivated by the allure of Cap Cana and wish to explore the remarkable villas available for sale, we invite you to contact our esteemed Director of Sales, Mark Magee. With his wealth of expertise and in-depth knowledge of the properties within Cap Cana, Mark is dedicated to assisting you every step of the way.
Mark Magee will personally guide you through the process, ensuring that you find the perfect villa that aligns with your preferences and investment goals. From arranging property viewings to providing valuable insights, Mark's commitment to client satisfaction is unparalleled.
To embark on this extraordinary journey of acquiring a luxury villa in Cap Cana, simply reach out to Mark Magee at your convenience. He eagerly awaits the opportunity to showcase the exquisite properties and facilitate a seamless purchasing experience tailored to your needs.
Contact Mark Magee today and begin your remarkable adventure in Cap Cana.
Video